######################################################################################################################################################################################### C / H / T # 1 ->>> 2
Y I O
B P T
E P A
R I L
E I
S
M
C H T H a c k e r b a s e R e f e r e n c e M a n u a l
@INTERNET :
http://totalism.org/manual
@LOCALNET:
http://terminal/manual
(internal link)LAST UPDATE:
September 7th 2015, Berlin
THIS IS DEPRECATED, AND SERVES AS A (PAST) REFERENCE.
DOCUMENT STATUS & INTRO
This was originally written as a complete process guide on how to use the CHT#1 base (rented) house. The house ("CHT#1") was rented in Season 1 - 3 (2011-2014). In Season 4 (2015), project has shifted to ground-up experimentation in pure rural desert, and is planning to buy land in the same area of northern Lanzarote ("CHT#2"). See
🔗
season4
yearly plan] page for that.
Without the house,
the manual is mostly deprecated
. The document will be cleaned up, abstracted, etc shortly.
The document seems long, and is sometimes embarrassingly specific and banal, but:
1)
it is a reference manual
= meant to be used with search, and only skimmed. use your "Ctrl+F"
2) it's
actually not that long
, probably about 20 minutes read if you'd go through all of it, but already saved tens of hours to people who'd have to keep explaining the same things to new people over and over again. Imagine explaining to 150 people (who stayed at the house) how to do recycling individually.
3) it's
publicly editable
, so if you think you can sensibly compress any parts, go right ahead
SPACE BASICS
WEBSITE:
http://totalism.org
http://www.facebook.com/cyberhippitotalism
LOCATION:
]
- - - - - - - - - - - - - - - - - - - - - - - - -
CHT#2 & SEASON 4 (2014/2015)
Started November 20th 2014
Also see
🔗
hacking-housing
project manifesto.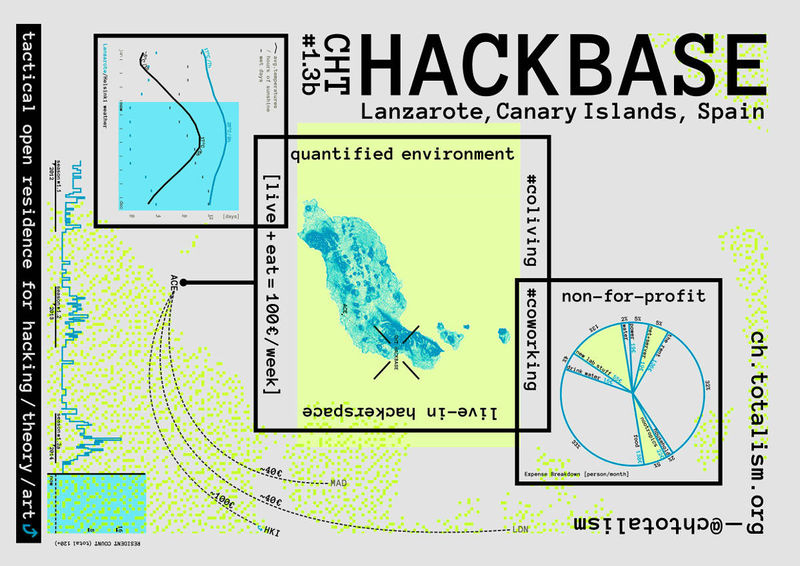 Hacker Europe maps:
🔗
maps
: Tactical living hack/theory/art points of interest in EU metropolae, 2011-2015
(London, Berlin, Amsterdam, Brussels, Paris, Ljubljana, Dublin, Hamburg, ...)
Former base (CHT#1)
(December 2011 -> June 21 2014)
@ Calle el Cangrejo 19, Mala (Haria), Lanzarote, Spain
- - - - - - - - - - - - - - - - - - - - - - - - -
CONTACT & SOCIAL MEDIA:
mail: info@totalism.orgirc: #hackbases on Freenode
facebook :
http://www.facebook.com/cyberhippitotalism
twitter:
http://twitter.com/chtotalism
skype, OTR, tox, etc: per request
last.fm : www.last.fm/user/chtotalism
#############################################################################################################################################################################################
/////////////////////////////////////////////////////////////////////////////////////////////////////////////////////////////////////////////
MANUAL BASICS
(similar documents)
See for example:
*
PAF basics
*
S14 "RTFM"
*
[...]
0. The intention of this manual:
to sustain the coliving ecosystem and establish the ground rules to make the stay as efficient, comfortable and sustainable as possible
Actively hack the hackbase stay and the manual - make it better for you and the future residents.
"Hackers are a class, but an abstract class, a class as yet to hack itself into manifest existence as itself." --McKenzie Wark
1. Please read the document and then ask any additional questions.
2. Everybody improves the manual:
(especially if you have been here)
make content additions:
...do not change the form & style
sign additions like this
<david
clear things up while you read
mark and leave random doodles and question marks if things are unclear.
3. The document is a set of fragments
Loosely written in
middlemachine
form - a set of short fragments with basic syntax. More on this: soon, and david@middlemachine.com
4. License of this document
http://creativecommons.org/licenses/by-nc-sa/4.0/
(CC BY-NC-SA 4.0)
Please attribute as:
This document is a derivative of
Totalism Hackbase (Cyberhippietotalism) Manual
curated by david@totalism.org (
CC BY-NC-SA 4.0
)
Main author and curator:
david@totalism.org
Also thanks to:
Hana, Goran, Justine, Jan & PAF, Mark, Sven, Spencer and others
for additions, inspiration, proofreading, suggestions, perspectives
5. Versioning:
The manual is periodically reviewed by everyone staying at the base.
////////////////////////////////////////////////////////////////////////////////////////////// ///////////////////////////////////////////////
THE HACKBASE
HACKBASE MISSION / VISION / PURPOSE
To:
*
start a [network of] residence[s] for tech / hacking, theoretical work and artistic creation
* establish a theoretical and practical counter-culture platform that is
replicable, scalable and inclusive
* improve & promote a
full-time hacker lifestyle
("quit your job and hack")
* enable hackers sustainable lifestyle with
minimal money needed (~300€/month in 2014)
* completely
rethink the basic coordinates of living environments
, in relation to new technologies
* focus on hacking the basic living infrastructure
* challenge
"the roommate anti-pattern"
of hackerspaces
* research, develop and deploy radical and new stuff
* go beyond "here and now" and beyond personal needs
Specifically for CHT#1:
* have the option to
escape the winter
to +20°C
THE MAP / LOCATION:
The island of
LANZAROTE, CANARY ISLANDS
(Spain, EU)
Geo coordinate
->>> See "THE MAP"
(anchor symbol).
----------------------------------------------
(POSTAL) ADDRESS:
#CHT2TODO
None currently
----------------------------------------------
Lanzarote map:
http://maps.google.com/maps/ms?msa=0&msid=206325113392546839877.0004b491252b83882d0c4
anchor == hackbase
Blue == supermarket, shop, place to go to
Green == natural site
Teal == beach
(etc)
----------------------------------------------
#CHT2TODO
On the outside, CHT#1 was a normal rented house in a sparsely populated village in the north of the island.
->>> See "LAYOUT" for more.
PICTURES / PHOTOS
Basic / random photos, showing the house and surroundings:
http://www.facebook.com/media/set/?set=a.637972936242563.1073741825.139379052768623&type=1
http://cht.soup.io
#CHT2TODO
HACKBASES
Hackbases are live-in hackerspaces. ->
http://hackerspaces.org/wiki/Hackbase
"While other hackerspaces are just places to go to "in your spare time" or "after work", CHT overpowers the life-work dichotomy by also being a hip crashpad, and cooking nutritious food."
This Monochrom piece explains it best:
http://www.monochrom.at/hacking-the-spaces/
HACKER|SPACE|SHIP
The HACKER|SPACE|SHIP is a concept, one crazy possibility what can be done (or thought) with the hackbase.
"Contained Environment Hacker Habitat mission hosted in CHT#1 [...] the HSS crew lives and works together as a part of an actual space-faring mission, in a tightly isolated, sensor-monitored, self-improving intelligent (cyber) environment, for 3 months."
See
🔗
project-hss
.
/////////////////////////////////////////////////////////////////////////////////////////////////////////////////////////////////////////////
ARRIVAL / COMING TO THE BASE
BOOKING A FLIGHT
New: Help arranging travel and potentially bursaries are offered if you have problems finding a trip for under 100€ one way.
--------------
The Lanzarote airport is the 6th biggest in Spain ->
http://en.wikipedia.org/wiki/Lanzarote_Airport
A flight from anywhere in EU should cost you ~50€ with Ryanair or Norwegian.
Airports commonly used:
IT - Italy: Milano (Bergamo), Bologna
BE - Belgium: Brussels (Charleroi)
UK: London, Bristol, (...) <-
http://www.skyscanner.net/transport/flights/uk/ace/december-2013/december-2013/cheapest-flights-from-united-kingdom-to-lanzarote-in-december-2013.html?rtn=1
ES - Spain: Barcelona, Madrid, (...)
DE - Germany: Frankfurt Hahn (120km W of Frankfurt), Berlin (with Condor), Düsseldorf Weeze, Munich (TUIFly), Baden-Baden/Karlsruhe (Ryanair)
FRA - France: Paris Beauvais
NL - Netherlands: Eindhoven
Ireland: Cork, Dublin, Knock (...)
SCO - Scotland: Glasgow Prestwick
--------------
Full list of Ryanair routes for Lanzarote-Arrecife (ACE):
http://www.ryanair.com/en/destination/allroutes/ACE
Or
fly in to Fuerteventura (neighbouring island
) and take the 15€ ferry:
http://www.ryanair.com/en/destination/allroutes/FUE
--------------
Use Skyscanner:
http://skyscanner.com
when you search,
select WHOLE MONTH
To discover new cheap routes:
http://www.skyscanner.net/flights-from/ace/cheapest-flights-from-lanzarote.html?rtn=1
More info on booking a cheap flight:
http://nomadwiki.org/en/How_to_find_cheap_flights
http://matrix.itasoftware.com/
STUFF TO TAKE / NOT TO TAKE
See
🔗
stuff
!
#CHT2TODO #DEPRECATED
BUSES: COMING TO MALA
(Semi-coastal village, location of CHT#1)
------------------------------
FROM THE AIRPORT
You land at Arrecife Airport, Terminal 1 (international flights).
Destination village is Mala. Take 3 buses
(buses are called "gua gua").
The whole trip is ~2 hours and 5€.
1.) Go to ARRECIFE INTERCAMBIO - Use the airport shuttle, and get off at last station (Intercambio). ~2€, 30min
2.) You now see the only (glass) skyscraper on the island and the bay. You need to get to the MAIN GUA GUA station.
*A: Use #3 (direction Costa Teguise) to reach main station, it's only one stop. ~1.2eur, 5min
*B: Or you walk 20 minutes uphill to the main Arrecife station.
3.) Get to MALA with one of these two buses: ~2€, 45min !
THE LAST BUS IS FROM MAIN STATION IS AT 8:30PM. If your flight arrives after 7PM, you need a transport.
#7 (direction: Haria)
#9 (direction: Orzola)
4.) Exit at station: "MALA BAJO" (last one, 3/3, in Mala. if you are out too early, follow road downhill):
looking north (towards the sea / desert), go right to Calle el Cangrejo (last street before end of Mala).
Walk for a few minutes.
5.) Find CALLE EL CANGREJO 19, on the left side.
Green metal garage door and a dead cactus
. See:
http://goo.gl/QTw7v9
------------------------------
Bus schedules:
http://intercitybuslanzarote.es/index.php?lang=en
Also printed next to the main door.
Or hitch-hike, it works fine. 30km.
http://hitchwiki.org/en/Lanzarote
...OR RENT A CAR
It is
about 15€ per day
, including full insurance.
Cheapest at the Airport
To get a discount, order online in advance.
Understand the fuel policy in your contract
Which company? :
Autoreisen: This German one seems cheapest -
http://www.arcarhire.com/car-hire/car-hire.php
- only 9€ per day
Cabrera Medina: ok experience
Always check with
http://www.doyouspain.com
, a federated search engine
-----------
It's ~30km drive from the Airport in Playa Honda to Mala.
INBOUND FERRIES
From Spain:
Doesn't make much sense, they're more expensive than flights and take 25 hours or so
~100€ per person from Cadiz, south end of Spain
From Morocco:
No direct ferries from Morocco at the moment.
(There is something in preparation for 2017, see [www.canariasenmoto.com/noticias/tras-el-verano-un-fastferry-de-acciona-unira-fuerteventura-con-tarfaya-17422.html|here].)
From other Canary islands:
From Tenerife or Gran Canaris, ~40€
From Fuerteventura, ~15€
HOW TO COME HERE FROM MOROCCO?
Binter Canarias has regular flights as low as 80€ one way to/from Gran Canaria.
No known direct ferries from Lanzarote or anywhere in Canary islands!
HITCHING BOATS?
Could be cool.
http://alternativesailing.org/
http://forum.alternativesailing.org/
/////////////////////////////////////////////////////////////////////////////////////////////////////////////////////////////////////////////
STAYING AT THE HACKBASE
INTRO
This is a compendium of how to make your stay work for everyone.
It is a
compilation of good practices, common sense, tips & tricks, caveats, and rules
.
By staying here you agree with the outlined.
If you don't understand / agree with anything, discuss/mark/ rewrite it.
Non-compliance is sanctioned with p a i n. #TODO
ATTITUDE BASICS ("Psychology" / "Sociodynamics")
* Keep promises* If you don't know or aren't sure, ask
* "Be awesome to one another"
----------------------------------------------------------
This roughly holds - from the @PAF manual (similar space in France):
*
Make it possible for others
, not by retreating, not by withdrawal, or by being modest.
* On the contrary,
do it by active participation
.
* Through action one offers and opens spaces in which others can take part.
*
One proposes participation
in an open rehearsal, a lecture, a conversation, a film or documentary showing and/or by cleaning up and maintaining general space.
* In other words: one does.
The doer decides
.
(But if the "doer decides" to do something that disables "make it possible for others" or potentially destroys, then it doesn't work. Use with common sense.)
----------------------------------------------------------
Asking People to Do Something:
1. It's something that
should have already been done
by not-you ->
protest:
* announce in dashboard with #RTFM tag
* TODO: #legal / consequence / ?
2. It's something
you'd like others to help you
with / do ->
ask nicely:
* prepare the place and tools in advance
* have a clear plan
* walk into a room -> present a task -> suggest names
... / IMPORTANT / GENERAL / RANDOM
*
All things must be returned to their proper (= previous) location after use:
* ...
especially the water bottle @stairs
* The main door should be locked at all times. (otherwise it doesn't stay closed, anyway)
*
Be totally inclusive & transparent of your outgoing plans:
if it's not private, make sure you're letting all others know and so enable them to join you on your walk / beachgoing / getting a beer
*
Don't leave anything anywhere
("Leave no trace"):
clean up 100% of the personal and general dirt left behind you.
keep information, materials, tools and spaces available and moveable.
Use boxes. Keep things out of way.
*
Kill all insects
:
especially moths, cockroaches, and flies
SPACE / CAPACITY / LAYOUT / PRIVACY / RECONFIGURABILITY
#CHT2TODO #DEPRECATED
Total capacity of the house:
comfort = 5 people
fun = 8 people
temp maximum = 13 people
record = 15 people (results were ... a mixed success)
--------------
Spaces
3 bedrooms (with double beds) = +3-7
a lounge / living room with 3 couches = +1-2
a terrace on top floor: possible to pitch 1-2 tents and sleep there any time of the year (see WEATHER) = +2-4
Plus
extra airbeds
--------------
->>> also see "Project Sleeping Pods"
------------
Reconfigurability #reconf:
You can have your own room and privacy if needed. you could probably experiment with the setups and switch rooms all the time Or just crash where there is space.
----------------
Layout:
3D house model / map coming soon #TODO
HOUSE WATER
All water on the island is DESALINATED
(from the ocean):
Technologically impressive. System uses ~ 3kWh / 1000 L of water. 1kWh costs ~0.2€.
DON'T DRINK IT.
Too much minerals.
Okay for tea/pasta/potatoes; has some aftertaste
#TODO what do you mean by don't drink it ... okay for tea?
DRINKING WATER
Do not dehydrate !!!!!!Drink 2-3L of water a day:
Have your own personal big glass / water bottle and just drink all the time If your piss is not clear, drink more.
http://www.appforhealth.com/wp-content/uploads/2011/07/Urine-chart.jpg
----------------------------------------------------
Because you cannot drink water from the tap, water is bought. This costs ~0.5€ per person a day.
Buy 8l bottles for ~1.5€ in shops or
from delivery truck
.
#CHT2TODO #DEPRECATED
A big white delivery truck with 2 guys from AGUA DE TEROR (yes, really) comes every two weeks on ~Wednesday ~12:00:
*
they have a big horn on the truck and are used to knock our doors!
Buy enough
- you can hardly buy too much water. Calculate:
for 6 people = 6 x 14 days x 3L per person per day & divided by 8 liter per bottle = 31 bottles
----------------------------------------------------
Places for drinking water bottles:
If you move water bottles, people will get confused, dehydrate and die.
#1 : stairs next to @room1 , @kitchen only when cooking
#2 : @lounge (if >5 residents)
Never open a new water bottle if the other one is still up. People will get confused and leave both to go bad.
ELECTRICITY
Mains switches (to turn on/off) are left of the entrance door.
#CHT2TODO #DEPRECATED
----------
We want to go solar but don't have the liquidity to do it.
----------
#todo : procedure for getting electricity back if you are unplugged (takes 2 days, go to Endesa)#todo : procedure for paying the bills (if someone else than David needs to do it)
WEATHER
Stable throughout the year. A typical December day has 20+°C!
In general:
Winters are stable:
ocean has 18-20°C
normal day 17-25°C
minimum night temperature 13°C (normally 15)
Summers are moderate:
ocean has 25-27°C
outside 23-33°C or something
All year stats:
http://www.yr.no/place/Spain/Canary_Islands/Lanzarote/statistics.html
Current weather:
*
http://www.yr.no/place/Spain/Canary_Islands/Lanzarote/hour_by_hour_detailed.html
*
http://www.aemet.es/es/eltiempo/observacion/radar?w=1&p=ca
(Radar)
*
[...]
Swimming weather:
Cloud cover clears around 11-13h. Go there early, so you'll already be at the beach already when it clears up!
Go to the beach if there is no cloud cover!
Look for cloud cover on the "detailed" hour by hour weather chart on yr.no (link above)
Good to swim >70% of the days, probably
WEATHER AT SEA:
WindGuru weather for FAMARA (Atlantic side, surfing, sailing)
http://www.windguru.cz/int/index.php?sc=49328
(Sailing typical wind ~15 knots).
DO I NEED A SLEEPING BAG
#CHT2TODO
There is bed sheets.
Fresh sets: @room1, drawers 1 and 3 (under mirror)
Maybe take it anyway:
You can also use it for trekking / visiting other places
--------------
#TODO: there absolutely need to be fresh sets all the time.make it into a protocol for "Departure".also mark where to put dirty stuff at leave etc.
- - - - - - - - - - - - - - - - - - - - - - - - - - - - - - - - - - - - - - - - - - - - - - - - - -
COOKING
Connect the gas: standard gas bottle with a valve.
As far as utensils/pots/pans:
There is everything you need
.
FOOD GENERAL
All food is common All meals are shared with others Usually people have two meals @terrace: breakfast ~11:30 dinner ~20:30 Ready the table while others prepare food
Ironing board / temp kitchen surface is NOT stable enough for using or moving it. Don't collapse it
COOKING GENERAL
#CHT2TODO #DEPRECATED
Freezing and thawing food:
either put the thing in the fridge a day early. Put it on a plate so you don't have blood dripping out...
or take a bowl and sink the thing in running(!) water
If you leave food out at room temperature (especially meat or fish), the FDA sets the limit for 3 hours
Do not refrigerate hot food - leave it to cool first.
Save the shopping bags
in left cupboard drawer next to fridge (future garbage sacks)
KITCHEN TOOLS
#CHT2TODO #DEPRECATED
HyperGrill
@terrace, a 4 kilowatt electric plate:
DO NOT USE IT:
it is dangerous
and hard to use
and harder to clean
But if you do:
TEFLON! Do not scratch.
Turn off all major electricity use before you start, otherwise the HyperGrill will shut down house's fuses
Turn on the plate and press the button for "Krazy mode"
Try to feel and understand the food on the Grill
Clean the Grill inside of the bathroom tub after using it
Cover it with a towel
Microwave
@stairs:
Don't use Microwave Ding! sound as an alarm clock for waking up people
Keep it seriously 110% clean and non-smelly
Blender:
Clean all parts immediately after use
Wooden utensils
:
rinse immediately
don't wash with too much soap. soap gets into the wood
don't leave them soaking in water
Compost
: See
->>> COMPOST
USING TEFLON (*for some, this is not obvious):
Do not scratch the Teflon pans
Use
ONLY WOODEN
UTENSILS inside or near it.
Do not use/touch/clean chef's main teflon (rounded) pan. Just put it on the stove. Sorry for being so bourgeois.
Clean with water and the
SOFT SIDE of the sponge - never the abrasive green part
.
Do not leave it in the sink and do not stack anything inside of it.
Any damage to the Teflon pans means you buy a new one.
WASHING DISHES
The sink stays completely empty.
It's the only way ;-)
At 6pm dishes need to be done & kitchen ready for dinner preparation.
Used dishes are:
RINSED with running water immediately after use
placed left beside the sink to wash
put in the cupboard above the sink to dry
(it's that cool one where the watter just drips out in the sink)
RINSE WELL. Foam on dishes / dishes smelling like soap -> stomach nausea
FRIDGE
#CHT2TODO #DEPRECATED
It's not in best shape
-
don't put anything heavy in the fridge doors
(destroys the hinges)
-
don't leave stuff to rot inside. Clean regularly.
- make sure every time it was really closed. Double tap.
- when the fridge is empty-ish, run it on 2. When it's full of meat, run it on 4.
-----------
We should probably either get a new fridge, or fix it, or live without one. #todo
KITCHEN OUT OF GAS
Kitchen gas runs out about every 3 months.
You get a new bottle:
at Gasolinera in Arrieta (see map)
it's about 8€
you have to bring the old (empty) one so they change it
#CHT2TODO #DEPRECATED
- - - - - - - - - - - - - - - - - - - - - - - - - - - - - - - - - - - - - - - - - - - - - - - - - -
QUANTIFIED HOUSE
#CHT2TODO #DEPRECATED
To understand resource spending patterns, get better at using less, and make future behavior decisions.
You must check and WRITE DOWN (see below) both the ELECTRICITY and WATER meters: When you come !
As many times in between, ideally every day
When the residents change (people come or go)
When you exit !
Location of boxes:
See:
http://goo.gl/QTw7v9
electricity: left of main door, high (green wooden box) water: white of main door, low (white box)
----------------------------------------------------------------------------
Save all the bills
for money you use (especially grocery shopping):
a lot of time you have to ask for the bill to get it
#todo = Storage space for that /explain where it is here or set it up
----------------------------------------------------------------------------
What else can we observe and learn from? Please
help understand the patterns better
by logging:
* take photos !!!
* time of waking up & going to bed #subtime
* what you ate / weights / calories
* moods, impressions, etc
* keep a public diary / blog
*
[...]
----------------------------------------------------------------------------
WATER & ELECTRICITY LOGS [in / out]:
Put measurements to "Project #cycles" folder in internal docs (Spreadsheet).
----------------------------------------------------------------------------
#todo :
link to documents currently on Dropbox
instructions where to put the data and how to look at it
- - - - - - - - - - - - - - - - - - - - - - - - - - - - - - - - - - - - - - - - - - - - - - - - - -
#CHT2TODO #DEPRECATED
SMOKING:
Do not smoke cigarettes inside the house. Sorry.
Smoke cigarettes on the terrace outside or at a room window
Do not roll or smoke on the /main terrace table/, during the day
If you smoke in the night, clean up afterwards immediately, completely
Don't smoke next to others eating
No traces of ashes, rolling or anything anywhere please
FRIENDS
*
Dora and Alfredo:
Dora is an artist:
http://www.facebook.com/dora.prehn
They have a big dog + 2 nice dogs
Live 3 minutes down the road.
* Javi:
cool dude
likes to cook and eat well
has a 420 class sailboat
we often shop together, he helps us with the car
--------------
Much more contact in CHT internal docs.
Upcoming: locals on list@totalism.org
HOUSE SAFETY
- Be careful about touching electric devices and cables. Might be under high voltage.
- Members bringing dangerous tools such as weapons, high power lasers, radioactive material or explosive material should declare them
- Don't run with scissors
#CHT2TODO
MEDICAL
- There is
FIRST AID in @ROOM1
- The closet on top-right!
- Alcohol 96% use in the case of open wounds
- After-sun lotion for your sun burns is in the bathroom
- Pretty cool
PHARMACY
is on main Mala street (direction Guatiza)!
- Next to the Pharmacy is
THE HOSPITAL
:
You need to have your blue EU health insurance card (the dark blue one)
you don't have one: you may be able take someone else's and they might not notice
DENTAL CARE
Important: All dental care in Spain is private! Neoliberal bullshit.
The only public service is tooth extraction and they don't even tell you where to do that.
Fillings cost 50-70€ and urgent canal treatment 400€+.
You might get re-compensated by your European/commercial insurance (?).
Please floss.
SvenG: what about people without a EU insurance card?
D: if the switch trick doesn't do it for you:
you should probably look into commercial insurances
you can pay for the medical services in cash
- - - - - - - - - - - - - - - - - - - - - - - - - - - - - - - - - - - - - - - - - - - - - - - - - -
#CHT2TODO
CLEANING
Clean a lot.
If something's dirty, clean it yourself or get help.
Baseline: 2-3 people work together, every 5-7 days, for 1 hour.
Don't use chemicals too much, except to mop the floors.
After you mop, discard water immediately
What to do:
Vacuum (especially stairs)
Mop the floors (especially lounge, kitchen, everything)
Trash ->>> TRASH
Fridge
Toilets
...
Mop the floors:
"Lejia" (bleach) is traditional, effective, and probably pretty toxic. Add 10% to water.
Bio detergents: #TODO
VACUUM CLEANER
Please Empty after use.
[the thing tends to overheat]. Do it outside of the house so you don't dust everything. Directly to the garbage bin.
DO NOT vacuum these materials
[damage!] - use a broom for:
Broken glass
Wet dirt / garden dirt
Cockroaches or anything else super disgusting
Fluids (obviously)
#CHT2TODO
WASHING MACHINE
- Fill washing machine to the full, collect dirty clothes from others if needed
- Pick up dried laundry before dark when clothes get wet of humidity
TRASH / RECYCLING / WASTE
#cht2todo #deprecated
Inside the house:
COMPOST:
*
at @frontyard (end of cactus field trail)
* all uncooked vegetables and fruit
* no meat (meat decomposition produces toxins, except if you wait much longer & attracts organisms we don't want there, like raccoons)
* no lemons / oranges (skin doesn't decompose well)
RECYCLABLE:
* everything together - separate
* paper, plastic, cans, glass -> green bags
* #1 : in the corner next to the main door @lounge
* #2 : @stairs just out of the @kitchen
NORMAL TRASH:
* use bags from shops as trash bags
* containers are 50m away, in both directions of the main door
Recyclable trash bins:
* are at the end of our street, 100m before main street
*
PAPER
= blue
*
PLASTIC & CANS
= yellow
*
GLASS
= green
------------
If you're feeling super eco:
*
OIL / oily stuff from cooking
= orange
- - - - - - - - - - - - - - - - - - - - - - - - - - - - - - - - - - - - - - - - - - - - - - - - - -
BUDGETING
*
Collect and record all bills from shops
- food & hardware!!!
* Give all bills you'd like reimbursed to the treasurer immediately
CONTRIBUTING FOR YOUR STAY
#OPENBUDGET / ACCOUNTING / #SUBFINANCEThe monetary contributions are necessary to sustain this house!
Everyone contributes. Otherwise, "someone" always pays. Guidelines:
1. House is run in a way to keep all costs (expenses, food!)
minimal and transparent
2. All the costs are equally shared. except if someone is in the position to contribute more - thanks!
3. The residents cover their full costs (or find a sponsor for themselves)
---------------------------------------------------------------------
#CHT2TODO #DEPRECATED
CURRENT SUSTAINABLE CONTRIBUTION (FULL SUBSISTENCE):
Rent, House expenses, Commonly owned hardware = 8€/day
Food = 5.5€/day
Total = 13.5€/day 100€/week 400€/month
---------------------------------------------------------------------
SUSTAINABLE CONTRIBUTION (LOGIC):These are not fees - it's sharing the needed basic costs.All expenses are logged and transparent.
First see this simplified example spreadsheet:
http://hackerspaces.org/wiki/Subeconomics
Basic coordinates (these are from the #SUBFINANCE spread):
The house costs ~ 400€ a month ~ 13€ a day ~ 4800€ a year (this includes rent and basic expenses)
(as of September 2013) Uptime is ~666 days ~8000€.
People days (residents lived here): ~1000.
So current ratio (pd's / days) is ~1.5 pd / day , ~566 pd / year.
Anyway that's
about 8€ PPPD ("per person per day").
---------------------------------------------------------------------
Sustainability principle:
* You can not expect to just bear the costs of "cost per current day, divided by number of residents"
* (the house doesn't have residents there all the time, and then "someone" would have to cover for the empty days)
In this way, the calculation is more like:
"all costs per running year, divided by number of resident days"
FUTURE OF FINANCING
1. Grow stays / year:
We need to go from 560 stays/year to 1000+ stays/year.
This way, PPPD would be ~4€ (rent).
This would mean something like:
>1 person 80% of the time
>2 people 60% of the time
>4 people 40% of the time
2.
Encourage bigger contributors "who can"
:
if 50% contributed 2€ more than Sustainable, then 50% could contribute 2€ less.
BUDGET: FOOD:
is about 5€ PPPD if you shop properly
look at #subfinance
Where to shop? Look below.
------------
#todo : link Dropbox for full history
THE TREASURER
#CHT2TODO #DEPRECATED
David is responsible:
* takes care of all the bills
* makes them available on the house server and online
For contributions:
* (No one else is in the house) Leave the money in some location with a note.
* Paypal to david.potocnik@gmail.com
---------------------------------------------------------------------
Accounting surplus is invested (raised to be about 20%).
Deficit (summers) is covered by reserves, regulars in funding drives, or the space bankrupts
---------------------------------------------------------------------
#todo: Link to past spreadsheets and #subfinance material: complete history of stays, all expenses, etc.Is now mostly in Dropbox ->>> Project: #Subfinance
- - - - - - - - - - - - - - - - - - - - - - - - - - - - - - - - - - - - - - - - - - - - - - - - - -
#CHT2TODO #DEPRECATED
NEW GARDEN @frontyard
Just in front of main house door.
2x1m plot with mostly herbs we squatted.
------------------------------
PLANNED:
5x5m or 10x10m plot
Need to talk to the land owners
#todo !!!!
#CHT2TODO #DEPRECATED
@COMPOST
There's a compost pile.
#CHT2TODO #DEPRECATED
@TERRACE
On the top of the house. It's awesome. Great views.
* Eat & cook here
*
If it's raining:
put things under the roof, especially the wooden stuff
* Don't leave anything on the terrace after the meal - take dishes down & rinse immediately
-----------------------------
TERRACE GARDEN:
water stuff every morning or evening, but not during day heat
kill all the greedy insects (spare the most fleshy for Special Gastronomy Experiences)
-----------------------------
At night, the stars can be a massive asskick (as can the moon, holy cow) andthe whole atmosphere is one simultaneously conducive for relaxing and getting work done.You can for sure work as steadfastly as the mountains stand still, like a boss.
#CHT2TODO #DEPRECATED
@LOUNGE
The main working area
* Open the windows when you get up.
Close them when you leave the house!!
* mind the cockroach danger:
don't leave any food here
close the main door immediately after yourself because they tend to race inside. it's true!!!
* keep the place 100% clean:
absolute zero trace of rolling and smoking on the surfaces at all times. put all related paraphernalia back in boxes after use
don't leave your stuff around
#CHT2TODO #DEPRECATED
@BATHROOM / @TOILET
It's pretty small.
* Carry your personal towel with you, if you want to keep sure it's personal
* Don't leave water under the sink
-------------
Specific for @Lanzarote island / Biosphera: This part of island has improper waste treatment. Don't use too much toilet paper.
/////////////////////////////////////////////////////////////////////////////////////////////////////////////////////////////////////////////
STAYING AT THE HACKBASE: CONCEPTUALS, WORKFLOW & IT
NEWCOMERS PROTOCOL
See
🔗
newcomers
.
WORKFLOW INTRO
See
🔗
workflow
.
DOCUMENTATION / KEEP A PERSONAL LOG AND THE SPACE LOG!
Please make logs on everything that you wish you knew or such.
See EVERY DAY TASKS, too.
--------
#todo: where to put this & appropriate models
DAILY ROUTINE TASKS / WHAT ELSE SHOULD EVERYONE DO?
Tasks:
*
Keep a daily public report
/ diary / log todo - explain where - facebook, twitter... ?
->>> LOG
* Measure and write down water & electricity
*
Read everything at
http://totalism.org
* Read the COMMON GROUND archive !!!! track what & when you've read (title + time).
-------------
#todo #asap:
merge with middlemachine instance for cht.
middlemachine should help/coordinate/manage these of tasks !!
READ: COMMON GROUND
->>>
🔗
commonground
CG is what is:
considered the base knowledge to understand what we're all doing here
something we must all understand so we can understand the project and each other
mostly completely obscure, awesome and highly relevant classic
a unique perspective that's probably been mostly overlooked
---------
That collection is only a stub. Start with the Yippies.
WORKFLOW: DOCUMENTS, TASKS AND IDEAS
On localnet:
DASHBOARD (with Fragments) @
http://terminal/dashboard
ETHERPAD @
http://terminal:9000
On internet:
DROPBOX - ask david for access
ETHERPAD @
http://pad.hackers4peace.net/p/
--------------
Share your documentation
Make sure it can be found:
if it's a LINK, properly publish it and make sure it's accessible to all
--------------
THE REVIEW:
is a regular periodical routine process
all notate and co-notate in an Etherpad document
a new document is prepared at the end
at review it's merged and previous reviews are always re-addressed
#middlemachine
- - - - - - - - - - - - - - - - - - - - - - - - - - - - - - - - - - - - - - - - - - - - - - - - - -
#CHT2TODO #DEPRECATED
INTERNET & LOCALNET #comm
Works fine. Normally:
Uptime is 95% generally
2mbit & ~150ms ping to UK/EU >60%
CURRENTLY (January 2014):
A: We have a stable link to the neighbours, established in January 2014
B: Optional: link to Dora needs to be fixed: faulty cable + broken antenna pole.
---------------
Routers + Passwords:
Wifi cht13-lounge, pass "nebula19" <- 4-port LAN linksys @lounge
Currently down:
Wifi CHT13-terrace, pass "nebula19" <- 4-port LAN tp-link @terrace
Wifi dcht02, pass "nebula19" <- @roof of our house
---------------
If internet in the house is down - temporary / alternative solutions:
(1) use Sociedad's wifi (on the main road of Mala, 8 min walk, can't miss it, just under the Farmacy). Pass: ???
(2) Use WIFI @AREPERA bar/restaurant, at the other side of the village:
* 10 minute walk (direction south, to Guatiza)
* Open wifi. Also works after they close down!
* Cool non-pretentious place, Colombian food. Order "El Chavre" arepera with meat and avocado.
#CHT2TODO #DEPRECATED
INTERNET OPTIONS / FUTURE
Plans / ideas:
* repeating from Arrieta (5km, 6mbit, ~200€ budget to build, 20€ a month.)
* get own landline (20€/month, would not improve uptime much.)
* 3G (look down)---- 4G coming to the island soon, fast speeds
Crazier plans / ideas:
* Lanzarote is soon to get a fiber optic connection, (neighbouring islands 200 kilometers away are already connected.)
http://cablemap.info
*
http://www.ubnt.com/broadband/satellite
internet as backup(expensive!, fast but high-latency, good for downloading bigger files like updates or software)
http://arstechnica.com/information-technology/2015/11/how-a-group-of-neighbors-created-their-own-internet-service/
#CHT2TODO #DEPRECATED
INTERNET DEBUGGING
Open console:
* ping inside/localnet address ('ping terminal' / 'ping 192.168.8.2192.168.8.2'). ping should be steady around 3ms, with nothing >100ms and no timeouts. otherwise the problem is on the local wifi network. review topology.
* ping outside/internet address ('ping gnu.org', `mtr 8.8.8.8` is great for debugging internet connections through Google DNS).
* ping should be around 100-200ms, with very little drops ... Or around 600ms max in very bad windy weather.
#CHT2TODO #DEPRECATED
HOUSE SERVER (Terminal)
It's the laptop computer in the hole left-side @stairs, going upstairs from @lounge
SPACEWASTE ARCHIVE <--- books, music, film collection
Ways to access:
1. Local web:
http://terminal/archive
[READ ONLY]
2. Samba:
* Samba is a cross-platform (Windows, Linux, OS X) local network file-sharing protocol
* find "Terminal" on the list of local network computers [READ & WRITE - add your things!]
* ... or connect to "
smb://terminal/ARCHIVE
"
* ...on OS X: Finder -> Go -> Connect to Server -> (enter address, use "guest" login if asked)
3. SSH:
* cht@terminal , password: standard admin password
---------------------------
Copy all of your personal collections here (Use Samba):
* PHOTO ARCHIVE
->>>
http://terminal/archive/SPACEWASTE/+PICS/
* MUSIC ->>>
http://terminal/archive/SPACEWASTE/+MUSIC
* FILMS ->>>
http://terminal/archive/SPACEWASTE/+FILMS
* BOOKS ->>>
http://terminal/archive/SPACEWASTE/+TEXT
DASHBOARD <--- CHT#1 fireplace, monitoring and control
Access:
http://terminal/dashboard/
Shows:
* fragments -
inhouse place to post ideas
and notes
press Enter to write, Ctrl+Enter to save
* current weather
* network topology / metrics / graphs
* list of local Etherpad documents + what's new
* list of local git repositories + what's new
Planned:
...
It's not working?
ssh cht@terminal ;;; sudo su ;;; service dashboard restart
MPD (Music Player Daemon) <--- the house music server
Control and stream music, loudly <-- via
Sony system @lounge
Is scrobbling to Last.fm @
http://www.last.fm/user/chtotalism
Control MPD / Music Player Daemon:
use web-based:
http://terminal/mpd/
use an MPD client:
|| #todo: complete documentation on how to connect with all apps
Windows: gmpc for Windows,
[...]
Linux:
mpc / ncmpcpp / gmpc
Mac OS X:
Theremin
from your shell:
mpc -h terminal [play|pause|next|prev|...]
log in to terminal's shell via ssh and:
mpc [command]
Stream to your device:
http://terminal:8888
<-- use VLC player, or anything that plays "internet radio" streams
Volume control:
* 'alsamixer' on terminal console
* or just set it on Sony directly
ETHERPAD <--- Local-server collaborative writing
#DEPRECATED
Like Google Docs, but opensource and more text-based.
What this document is written in.
To access:
LOCALNET:
http://terminal/etherpad
or
http://terminal:9000
INTERNET:
http://pad.totalism.org
These two should be synchronized.
List of documents:
see on Dashboard
DELUGE <--- Web-based Torrent Client
Don't kill the house internet link by running P2P file sharing.
Use Deluge for downloading torrents @
http://terminal/deluge
Password: chtchtcht
GIT <--- Source code archive
On terminal @ /home/terminal/repos
Projects and changes show as a part of Dashboard.
Access on web:
http://terminal/cgit
CLONE A REPO (localnet via ssh):
git clone cht@terminal:repos/dashboard
TODO:
* document the repos
* git protocol running? or we just use ssh?
* sync repos to internet
Other services:
Enabled:Currently disabled:
("chmod +x" in /etc/init.d to re-enable):
Notable paths:
/GIT : repos
/SPACEWASTE or /data : 1.5TB data storage (archive)
/home/cht/bin : node scripts (niklas/adrien) for dashboard
SONY SOUND SYSTEM @lounge
Has two audio feeds, accessible via buttons on the device, or on the remote control:
* "CD" <- Terminal server / MPD
* "VIDEO 2" <- jack input going out of the device
#CHT2TODO
THE PRINTER
OKI C301dn Color Laser @ 192.168.8.118
SETUP:
- with Windows: drivers @
http://terminal/archive/data/+DRIVERS/Oki
- with Linux: use cups socket://192.168.8.118:9100 (foomatic driver for OKI C301dn works)
- with OS X: was auto-detected, but didn't print with "generic" driver - use
http://www.okiprintingsolutions.com/support/printer/printer-drivers/detail.aspx?prodid=tcm:138-131699&driverid=tcm:138-146882-16
(Works on 10.5-10.8 and 10.9 also)
------------------
Please:
*
don't waste ink
: use draft mode & don't use colors if you don't need them
* note down on Dashboard if you've printed anything > 10 pages
More:
* The self-turning double sided print feature is awesome
* admin info:
http://192.168.8.118/printer/printerinfo.htm
#CHT2TODO
3G INTERNET
David: I suggest you
get a YOIGO 3G PRE-PAID SIM card
:
There is a Yoigo office just under main bus station in Arrecife - inside Spar
20€ for a cool deal - 1GB for three months (1st month free + 2 x 8€)
IMPORTANT:
Ask for "OPTION INTERNET" to be enabled
Make sure your phone is properly configured with the SIM card at their shop!
Give your phone to the dude behind the counter and leave only when the thing works properly!
-------------------------
....YOIGO DISCUSSION...
Mark:
My experience with Yoigo is very bad. Bought a SIM card, tried it in 2 phones,
internet connection is not working most of the time, anywhere on the island.
Only way to keep a 'stable' ssh-connection was by usiing mosh (
http://mosh.mit.edu/
).
David:
I think you might have had it misconfigured - you need to have "allow data roaming" on, etc ...
For example, i routinely had 300kb/s at CHT#1 in Mala
Mark:
afaik I did, because otherwise it wouldn't work at all.
Maybe they had some major disturbance.
Domen:
Same for me, 3g with yoigo is VERY slow. It works, but for example loading google maps texture
data takes few minutes. Opening SSL page is an adventure.
<--- David: i've heard this for Famara area before!
Mark:
Go to yoigo.es
Log in (or get a password over SMS for first time)
Click 'Mi Tarifa' and then on 'Datos tarifa'
Down is a button to activate fast internet (first 500MB is €8, every upgrade of 300MB is €5; resets every 1st of the month)
/////////////////////////////////////////////////////////////////////////////////////////////////////////////////////////////////////////////
NO ONE IS HERE ("Summer Manual")
This section is for times when you're arriving to an empty place.This might happen in the summer months.
FLOCKING
(New 2015)
See
🔗
flocking
protocol to self-organise a new subseason / camp.
SET UP: INTERNET
Instructions:
Todo.
#comm
Always possible:
3G!
#CHT2TODO #DEPRECATED
ANTIPEST / ROACH WARS
When you enter, no one might have been there for 1 month, in a summer, or so......
That's
NORMAL for subtropical climate in the summer
-
there might be some ROACHES in the bottom floor, the @lounge
.
Killing roaches:
Not with shoes. You could spread eggs everywhere. :D
Just smash them with some paper and throw them out!
-----------------
Prevention:
Clean the house every 5 days!
Use mop + bleach (lejia).
-----------------
Buy boxes with a substance poisonous to cockroaches. They should work for about 3 months.
#CHT2TODO #DEPRECATED
SET UP: HOUSE WATER
There is
a valve to open
(and close when you leave).
Find it right of main door, white cover. See:
http://goo.gl/QTw7v9
I think I indicated what it was with a marker. (otherwise please #todo it next time with marker + tape)
--------------
The system in the house (all houses on the island) is strange:
Statistically there will be water outages regularly
(That's why all houses have mandatory 500L tanks on the roofs)
...but if you just arrive during a water outage and no-one was in the house before, you might be fucked
Sorry! you are in a desert.
-----------
#TODO <mark
"the tank on the roof was empty (how does this fill up again?" :
1.understand this better
2.we should build a system to really know what's going on
#CHT2TODO #DEPRECATED
SET UP: HOT WATER
The electric water heater tank is located in @stairs (next to main bedroom).
If you don't have hot water flowing (recognized by no water coming out when you open hot water):
Put both valves in vertical
. The correct opened/closed positions are drawn on a paper next to it :)
Do not change the temperature regulation (should be on marked spot).
Don't forget to close both valves when you leave.
-----------------
#todo: confirm the positions are correct:)
#todo: is this proper procedure for closing? should water be let out?
#CHT2TODO #DEPRECATED
LEAVING THE HOUSE (VERY IMPORTANT!)
If you are leaving for a longer time and the base is to be uninhabited for >1 or 2 weeks...
Re-check every part of this list when you leave, so you're sure it's done!
Basics:
clean so you make the next person happier! at least to the condition you got the house in.
make sure there are some fresh bed sheets available
make some pictures around the whole house
The fridge:
take everything out of the fridge and leave it open
what is left and you can't take with you - give to the neighbours!
The food:
make sure you
do not leave anything perishable, or open, in the kitchen
! (like half open rice or pasta) otherwise: PEST PROBLEMS.
Disconnect:
electricity (all fuse switches down)
water heating (regulator to 0, valves horizontally)
main water (outside)
gas (unmount pipe)
Close everything:
close and lock terrace door
close and lock patio door and small window @room3
close & lock all windows in the house
close & lock windows @lounge downstairs (the vents)
/////////////////////////////////////////////////////////////////////////////////////////////////////////////////////////////////////////////
OUTSIDE OF THE HOUSE
Generals:
* DO have a Flashlight with you for evening walks
* Bring plenty of water with you.
#deprecated
EVERYONE LEAVES HOUSE?
* Close the @lounge windows!!!
* In chance of rain:
Move everything (table!) under @terrace roof.
Close all windows
SHOPPING (FOR FOOD)
Shop in bulk, once every 7-10 days!!!
Spend ~5€ PPPD ... For 6 people = 6 people x 5€ x 10 days = 300€
-------------------------------------------
Arrecife (all until 9pm):
*
EUROSPAR
Arrecife:
in entry to Arrecife from North (Mala via Tahice)
has a bust-stop next to it for Mala-bound 7 & 9 bus lines!
==> freesh fish, meat, eggs, everything ...:
*
LIDL
:
next to Ikea
==> cornflakes, cheese, yoghurt, nuts
*
CASH FRUTA
:
==> fruits, vegetables, frozen fish
*
Hiperdino
:
==> general, some local Canarian / Spanish stuff is much cheaper
Other:
*
Eurospar in Costa Teguiese:
open until 10pm every day!!!!
pretty big, not as big as others though
*
Roper (Playa Honda):
is awesome!!!
==> fresh and frozen fish, seafood, meat!!!
These and more shops, see
->>> THE MAP
-------------------------------------------
Local shops in Mala:
* Sociedad Mala: a bar - beer and cig's
* Pedro's - very small, strange, bizarre, we never use it (on the main road of Mala)
*
Arrieta (5km North), the Gasolinera
. Okay selection, not very good prices.
* Almost the same thing is with the shop in
Guatiza
(5km South).
Don't use them if possible - bad selection and prices.
SHOPPING (FOR STUFF)
Also see "LANZAROTE MAP" !
In Arrecife:
* FT ("Ferreteria Tias") = hardware shop
* IKEA = IKEA
* Sport Zone = tents, sleeping bags, bike stuff
* Madeira Biera = wood !!!!
THE BEACHES (close to Mala)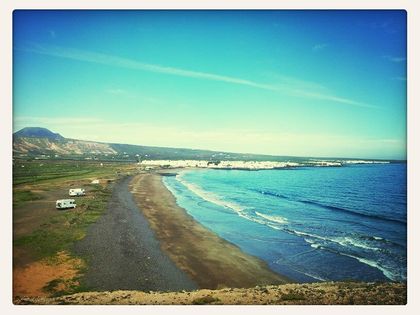 "La Garrita":
@Arrieta, first village north. 30 minute walk north, next to the road. Easy to hitch.
Pretty okay shop also there (La gasolinera).
White beaches:
* A bit further north, 1km or so before Orzola.
* Hitchhike there!
Other awesome Lanza beaches
->>> THE MAP (cyan markers).
LANZAROTE = UNESCO BIOSPHERE RESERVE
Cesar Manrique is (was) the island's chief urbanist/visionary/architect.
The whole island is protected against marketing and hotelier expansionism.Tourism is limited to three enclaves (Costa Teguise, Puerto del Carmen, Playa Blanca).
http://en.wikipedia.org/wiki/C%C3%A9sar_Manrique
http://www.unesco.org/mabdb/br/brdir/directory/biores.asp?mode=all&code=SPA+12
SPORTS: ON WATER
Diving:
Mala is the top spot
Diving School in Arrieta
Surfing & Kite surfing:
Famara !!!
Sailing:
+javi has a 420 boat (see below) : 2-person dinghy, olympic class, owyeah
WIND STATISTICS :
http://www.windguru.cz/int/historie.php?id_spot=49328&model=gfs
SPORTS: TREKKING
* Go outside a lot! Trek for 4h once a week.
* We have portable hiking tents + a bunch of sleeping bags
*
Track your routes
:
Use Endomondo or something like this
Export .gpx or .kml and put to /SPACEWASTE/#treks
Best treks:
* to Famara (other side of the island) : ~4h
* Montana la Corona
* nearby hills
* everywhere
BANK MACHINE (ATM)
#CHT2TODO #DEPRECATED
is @Guatiza, the first next village south (5km).
TOURISM AND SIGHTS
Buses are cheap. Also,
hitch-hike.
Highly recommended:
Mirador del rio
white beaches between Arrieta and Orzola
Haria
Famara
the volcanic park!
drive around the wine country
Not recommended:
don't really go the south like Playa Blanca (David's opinion : long way, boring, rocky, tourist trap)
ignore Puerto del Carmen (except maybe for partying on the weekend)
Consult THE MAP (link up) for more cool places.
-----------
#TODO: add more ways to find parties / links / Facebook pages / ...
PARTYING
How to find a party? -> just ask Dora and Alfredo, they know everything
Friday, Saturday -> Arrecife
Sunday -> Teguise (La Pamera)
PARTYING IN ARRECIFE
Arrecife is the capital of the island. Around 75.000 people.
Places in Arrecife / also see ->>> THE MAP
Charco de san Gines (La Minoca)
Tambo (9-10pm), then
Callejon Liso or La Roca (0am-4am)
Te Veo (last, omg)
Then chill out, and leave with ~ 5:40 am bus from main Arrecife station. Congrats.Be careful: there is a possibility you meet cool people who take you on an adventure, while visiting multiple homes and you won't get back at CHT before 3pm ;)Don't get robbed while you are crazy drunk.
HITCH-HIKING (to Arrecife)
From the big road
(10min on foot from the house, under the hills):
Head out of Calle el Cangrejo, reach the road (where bus station is). Walk through desert for 5 minutes and reach the motorway. There you are. Hitch by the roadside.
BUSES
(Look up for more info.)
PUBLISHING / SOCIAL MEDIA / ...
You can publish any photograph:
if the people on it agree
if it doesn't incriminate anyone ;-)
Please mention the space to promote it !!!/////////////////////////////////////////////////////////////////////////////////////////////////////////////////////////////////////////////
ETC ETC ETC
MORE CHT MATERIAL
*
base website
...
http://totalism.org
(+ all links on top header)
* CHT "Offer to collaborate", kind of a cheesy official presentation:
http://archive.totalism.org/CHT1.pdf
* CHT as
HACKERSPACESHIP
(a vision / grant application):
🔗
project-hss
*
COMMON GROUND
:
🔗
commonground
* internal docs (send an email for access to david@middlemachine.com)
* the Wiki, needs to be migrated to middlemachine #todo
* materials on Terminal house server / localnet :
http://terminal/archive
* old Totalism wiki ...
http://wiki.totalism.org
(ask for access)
* in various middlemachine instances ... (in CHT#1 Dropbox)
OTHER INTERESTING LINKS
* hackerbases brainstorming pad from OHM2013
http://pad.hackers4peace.net/p/hackerbases
* Inspirational place with self-manage practices
http://www.pa-f.net/
*
[...]
PROJECTS
This is a very partial list of interests from ~2013:
+
Terminal / Distro / Dashboard:
hackbase Linux, house monitoring and house fireplace
+
#comm
: wifi repeating / mesh, localnet, long distance bridges
+
Subfinance
: fluid hackbase accounting, co-living, co-investing
+
Subtime / Subflow
: temporality and focus R&D
+
Processual-Modular-Generative architecture :
hackbase architecture
+
Lim0
: profit-minimizing, fully transparent, open-governed shop
+
Aquaponics & sensor-controlled agriculture
: growing own food
+
Moringa Oleifera
+
Quantified environment / Quantified selves / Sociodynamics
+
middlemachine
: intelligent ideation-publication-execution platform
+
Polemics / Numerics
: totalistic modelling of everything
+
text.totalism
:
🔗
text
+
MPD upgrade
: synced clients, self-organising collections
Descriptions:
*
🔗
project-hss
(Under "Platform projects & Experiments")
*
http://archive.totalism.org/CHT1.pdf
(Under "Basic fields of work")
LEARNING SPANISH
*
http://www.duolingo.com
is pretty cool
* someone should test Memrise? and Busuu (due to gamification / rivalry / social features it's better to stick with single app)
* Anki learning software
http://ankisrs.net/
some "guide"
http://howlearnspanish.com/2013/03/anki/
* Hacking Language Learning on [Youtube] (
http://www.youtube.com/results?search_query=hacking+language+learning
)
/////////////////////////////////////////////////////////////////////////////////////////////////////////////////////////////////////////////
ARRIVALS / REGISTRATION
****** Please email info@totalism.org ******include:
name
/nick/handle (for accounts)
contact
: email + Skype (or other telephony) + social media
where you're coming from
what you do / your main project if you already have a clear idea + website do you have work to do? what are your mid-term plans? would you consider moving here for longer?
DATE & TIME of arrival
and planned leave (as precise as possible atm)
Do you have arrival (plane / ferry) tickets yet, How sure in % are you
CURRENT RESIDENTS
See
http://totalism.org/next
---
(Site generated by E2H, an "Etherpad hypermedia" project by @dcht00).


This work is licensed under a Creative Commons Attribution-NonCommercial-ShareAlike 4.0 International License.